Refugees who arrive in the UK by small boat from today will be banned from claiming ­asylum or using human rights law to stop their removal.
Home Secretary Suella Braverman is set to publish long-promised legislation on Channel crossings on Tuesday that she has admitted "pushes the boundaries of international law".
This will include preventing people who come to the UK illegally from claiming asylum.
Ms Braverman will ask for this to apply from the moment she unveils the proposals in the Commons to avoid people smugglers "seizing on the opportunity to rush migrants across the Channel", a government source told Sky News.
She is expected to say that under the new illegal migration bill, asylum claims from those who travel to the UK in small boats will be inadmissible.
Arrivals will be removed to a third country and banned from ever returning or claiming citizenship.
Refugee charities have already described the plans as "costly and unworkable" and said they "promise nothing but more demonisation and punishment" of asylum seekers.
Writing in The Sun, Prime Minister Rishi Sunak said the UK has a "proud history of welcoming those most in need".
But he claimed that those arriving in small boats were doing so via "safe, European countries", and were not "directly fleeing a war-torn country" or "facing an imminent threat to life".
Read more:
How small boats trade really works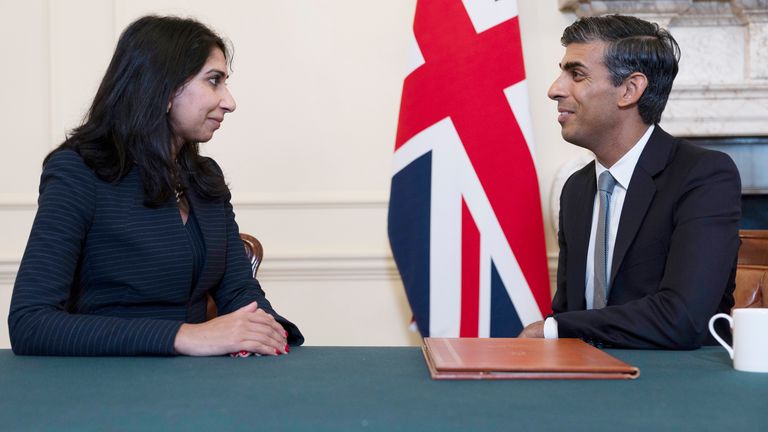 Government 'pushing boundaries of international law'
Critics say the UK has "comprehensively shut down" legal routes for refugees to come to the UK.
While there are schemes to help people fleeing specific countries like Hong Kong and Ukraine, the government has failed to explain the safe and legal routes for asylum seekers escaping war from other parts of the world.
Mr Sunak has made stopping Channel migrant crossings one of his five priorities in office and said while previous bills have made a start on gripping this, "what we are announcing today takes that work forward".
"It will mean that those who come here on small boats can't claim asylum here," he added.
Despite plans such as forcibly removing asylum seekers to Rwanda being mired in legal challenges, ministers were expected to approach the limits of the European Convention on Human Rights with the new legislation.
Writing in the Daily Express, Ms Braverman admitted the plan "pushed the boundaries of international law".
Read more:
Sunak will hope trying to stop Channel crossings appeals to voters
'People smuggling is just another job'

Government still committed to Rwanda deportations
Under the new legislation, a duty will be placed on the home secretary to remove "as soon as reasonably practicable" anyone who arrives on a small boat, either to Rwanda or a "safe third country".
According to The Times, this will take precedence over human rights and modern slavery claims, and there will be new powers to mass detain arrivals.
Mr Sunak spoke to Rwanda's President Paul Kagame before unveiling his plans, and pledged to continue working with him to ensure their stalled project works.
The government has paid more than £140m to the east African nation for deportations, but no flights forcibly carrying migrants to the capital of Kigali have taken off because of legal challenges.
The PM will also meet France's President Emmanuel Macron on Friday to discuss further cooperation that will be required to reduce boat crossings.
Read more:
People smugglers 'settling in Britain'
Decmeber: Braverman defends Rwanda policy

'Unworkable and costly'
Several Tory MPs welcomed the news that a new bill was imminent, but Labour raised doubts about the legality and feasibility of the bill and the Liberal Democrats said ministers had drawn up "another half-baked plan".
The Immigration Services Union representing border staff also said the plans are "quite confusing" and do not seem "possible" without the Rwanda policy functioning.
Almost 3,000 migrants have made unauthorised crossings of the English Channel already this year.
Refugee Council chief executive Enver Solomon said the plans "shatter the UK's long-standing commitment under the UN Convention to give people a fair hearing regardless of the path they have taken to reach our shores".
"It's unworkable, costly and won't stop the boats," he added.