"Hang on lady, we going for a ride!" Almost 40 years on from delivering this understatement of a line on a rope bridge in one of the most famous films of the 1980s, actor Ke Huy Quan is now on a wild ride of his own.
Because before Everything Everywhere All At Once, the hit multiverse film that has more nominations than any other at this year's Oscars, Quan, 51, was best known for his work as a child star.
If you were wondering where you recognise the actor from, think back and you'll place him; as young sidekick Short Round alongside Harrison Ford in Indiana Jones And The Temple Of Doom, and the gadget-loving Data – setter of booty traps and inventor of the suction-cup belt and slick shoes – in The Goonies.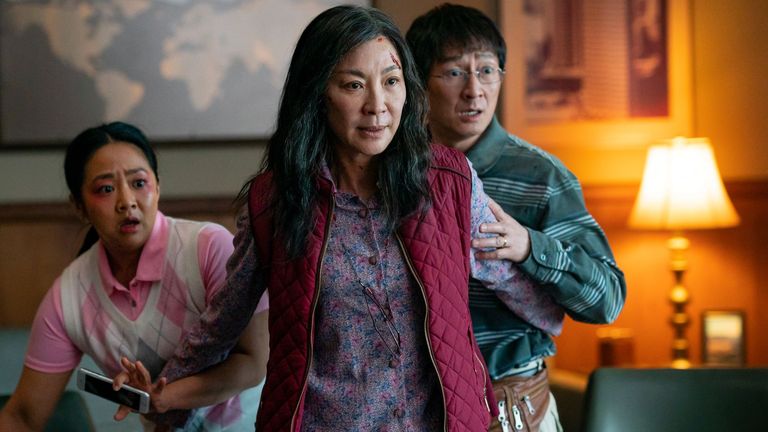 Despite these roles in two of the most beloved films of the 1980s, Quan struggled to find further work in an industry where opportunities on screen for Asian-American actors were scarce. Unable to find roles on screen, he eventually went to film school, began working behind the camera and more or less gave up on his hopes of acting again.
Now, he has made not just a comeback, but an award-winning comeback, having picked up a slew of prizes – including a Golden Globe and Critics' Choice and SAG awards – for his performance as Waymond Wang alongside Michelle Yeoh in Everything Everywhere. On Sunday, he may well be adding an Oscar to that list.
"I'm so happy!" he exclaimed as he spoke to Sky News at the London Critics' Circle Awards in February, wearing his glee on his sleeve. Quan in 2023 is still boyish, his face expressive; the young star still very much there.
"It feels great," he said of his comeback. "Also surreal. In fact, when I decided to step back into acting, I was so nervous because I didn't know what the audience would think. The last [time] they saw me up on the screen I was a little kid, and now I'm a middle-aged man. So to have the response of positivity has been incredible."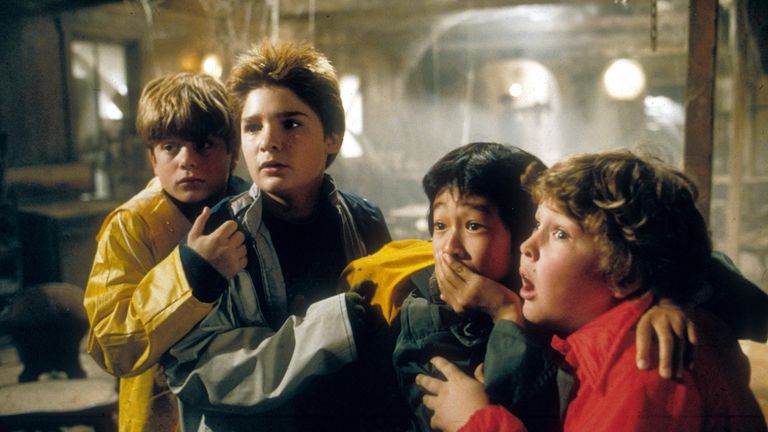 In a world where A-listers are usually more reserved, it is a joy to witness his exuberance.
Like Richard E Grant's unashamed delight when he was nominated for an Oscar in 2019, Quan has become one of the stars of this year's awards season, sharing numerous selfies and videos on social media from the ceremonies he has attended and of the stars he has met along the way.
'I love selfies'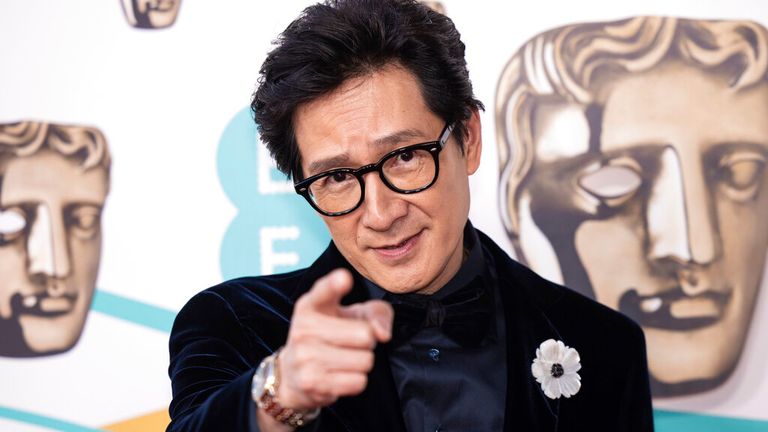 After the annual Oscars preview luncheon, he shared a series of photos on Instagram, nearly all featuring a grinning Quan in what has become his trademark finger point pose, alongside the likes of Tom Cruise, Angela Bassett, Brendan Fraser and Stephen Spielberg, who of course directed him all those years ago in Indiana Jones.
"I was just so excited to be at the 95th Academy Luncheon today," he captioned the post. "As we were gathering for the group picture, I looked around me and got very emotional because it finally hit me that I was among this group of nominees… and you probably have caught on by now, I love selfies. Sharing some more from this afternoon."
And it is all thanks to his critically acclaimed performance in Everything Everywhere.
Read more:
The Oscars luncheon in pictures: Inside the big preview party
Why British star's nomination has sparked controversy
"When I read the script, I knew it was special," he told Sky News. "I loved it. It was a script that I wanted to read for a long time, and we had the most fun making it. But, we didn't expect all of this. I mean, all these award nominations and the audience embracing the movie the way they did is beyond anything we ever imagined.
"I'm enjoying [awards season] very much. I'm very grateful for everything that has happened since. And yeah, it's been a wild ride."
'Knowing where I am today, I wouldn't trade it for the world'
At a UK Oscars preview party, a joyful Quan spoke to Sky News once again, and elaborated on how his comeback correlated with the film's theme of alternate lives.
"That's another reason why people love our movie, all these questions about, what if?" he said. "When you are faced with a fork in the road, what path would you choose? And we always wonder, what would our life be had we chosen a different path?
"Sometimes I think about it, especially when I was struggling as an actor. I always think about, could I have done something different? Would I have had more opportunities when I was much younger? Knowing where I am today I wouldn't trade it for the world."
Read more:
Blockbusters, first-timers and snubs – all the Oscars talking points
How to watch all the big films nominated for Oscars
So could the Oscar be next?
"I'm just trying to be in the moment and enjoy one day at a time," he said. "Honestly, when I did this movie, when I decided to get back into acting, I didn't think any of this was possible. I just wanted a job. I just wanted to be in front of the camera again. All these nominations are so, so great. It's already a win for me."
Click to subscribe to Backstage wherever you get your podcasts
You can watch the Academy Awards on Sunday 12 March from 11pm exclusively on Sky News and Sky Showcase. Plus, get all the intel from our Oscars special Backstage podcast, available wherever you get your podcasts, from Monday morning