Scotland's former first minister Alex Salmond has told Sky News that SNP leadership hopeful Humza Yousaf skipped a key vote on gay marriage due to "religious pressure".
The Alba Party leader said Mr Yousaf seems to have a "different recollection" over the events surrounding the historic 2014 vote after the Scottish health secretary denied deliberately setting up a diary clash weeks in advance.
However, appearing on Beth Rigby Interviews on Thursday, Mr Salmond said he was notified of Mr Yousaf's meeting "10 days or so before the vote".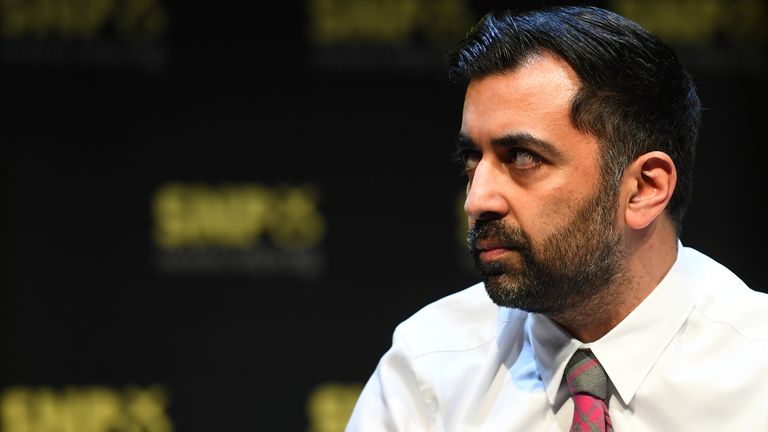 'That's my recollection'
Mr Salmond, who was leader of the SNP and Scotland at the time of the final vote, told Ms Rigby: "I've been very reluctant to get involved in this because it is an internal SNP leadership battle.
"I really don't have a dog in this race, and anything I say, you know, people will say 'he's only saying that because he's leader of Alba'.
"My memory is that I was contacted 10 days or so before the vote, when the vote was known, and told that Humza was arranging a ministerial appointment."
When pressed further on whether Mr Yousaf skipped the vote due to "religious pressure", Mr Salmond stated: "That's my recollection."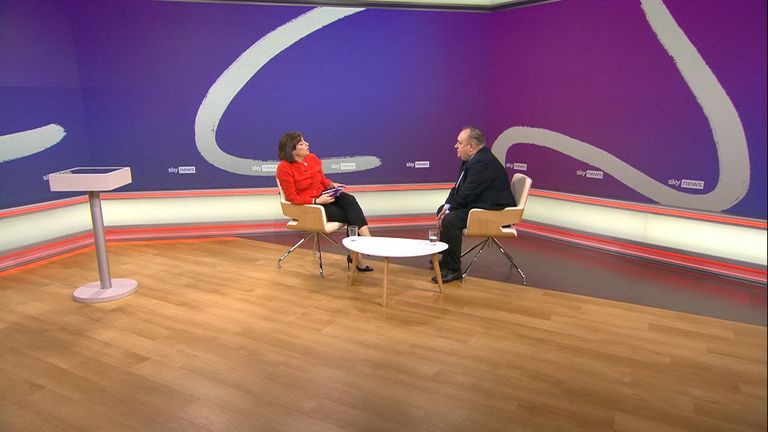 The Scottish health secretary is currently in the running to replace Nicola Sturgeon as SNP leader and first minister following her shock resignation last month.
After fellow candidate Kate Forbes received backlash over her equal marriage views, Mr Yousaf was questioned over his absence from the historical vote in 2014 and asked if he too would have voted against it.
SNP leadership candidate Humza Yousaf said he does not believe gay sex is a sin.


Mr Yousaf gave his support to an earlier vote but missed the final one.
In an interview with Sky News, Mr Yousaf said his abstention was being "dragged up" for political reasons by "people who are supporting other candidates".
Kate Forbes has come under fire for her views on equal marriage and having children out of wedlock

He stated that gay sex was not a sin and told Sophie Ridge on Sunday: "I believe that people's marriage, if they are gay and they are married, that their marriage is no more inferior, or worth less, than my marriage as a heterosexual individual."
Mr Yousaf has also voiced his support of the Scottish government's controversial Gender Recognition Reform (Scotland) Bill, which was subsequently blocked by the UK government.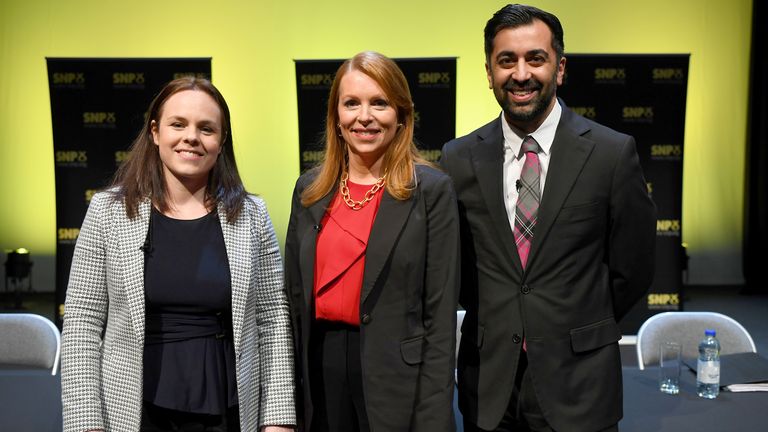 'If I was there I would have voted for it'
When asked about his absence from the 2014 vote, Mr Yousaf said he missed it over the case of a Scottish citizen on death row in Pakistan.
He claimed: "There was a series of meetings taking place between myself and the Pakistani government to get this individual back home. One of those meetings was during the stage three vote.
"Let me be unequivocal about it – if I was there I would have voted for it. That was well known at the time."
Read more:
SNP accused of infringing press freedoms amid hustings U-turn
Yousaf's absence from key vote on gay marriage being 'dragged up for political reasons'
Forbes 'burdened' by hurt caused by religious views but fights on in race
The controversies which piled pressure on Sturgeon
However, former health secretary Alex Neil alleged that Mr Yousaf had asked to skip the final vote due to pressure from a mosque.
In one interview, Mr Neil stated that the meeting had been "arranged deliberately to give him cover for the timing of the vote".
Mr Salmond admitted discussing the issue with people at the time, including Mr Neil, and their memories are reportedly the same.
Click to subscribe to the Sky News Daily wherever you get your podcasts
'His memory may be different from mine'
The politician stressed that Mr Yousaf did not need to ask for permission to miss the vote as it was a conscience vote.
Asked what reason was given, Mr Salmond responded: "I didn't discuss the thing at great length. The assumption was there was pressure."
He stated it was "no secret" that a lot of religions were "canvassing" politicians over the vote at the time.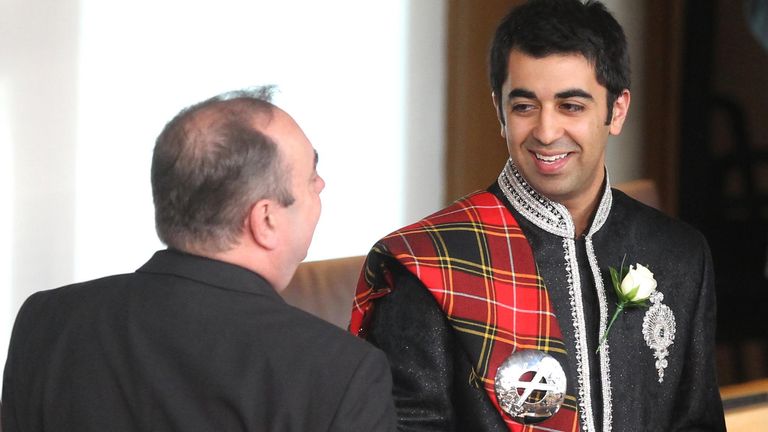 Speaking about Mr Yousaf's denial, Mr Salmond said: "His memory may be different from mine, let's put it that way.
"He seems to have a different recollection from what I do or what Alex Neil has, so be it."
Connor Gillies, Sky News' Scotland correspondent, questioned Mr Yousaf over Mr Salmond's claim during the MSP's campaign visit to Dalkeith in Midlothian later in the afternoon.
Mr Yousaf denied it.
He said: "It is the most predictable political intervention, I have to say."
Mr Yousaf highlighted that a number of MSPs raised concerns about equal marriage and the bill at the time, but he was not one of them.
He stated: "Time and time again I've told you my account, I've told you why the meeting was necessary, and people can see my track record."
Refuting Mr Salmond's claim, Mr Yousaf said: "Well I have to say, my recollection is very different to Alex Salmond's recollection. Alex Salmond is also, I think by any objective measure, he has of course backed other candidates in this race."
When told Mr Salmond has not backed any of the other candidates, Mr Yousaf said the former first minister had "made it pretty clear" that he does not want to see him as leader of the SNP.
When questioned over whether Mr Salmond was "not telling the truth", Mr Yousaf stated: "My recollection is different to Alex's. I'm not going to sling mud."
He added: "Alex Salmond will say what Alex Salmond has said. Alex Neil will say what they say. I will continue to give you my recollection of what happened, the account of what happened."
Beth Rigby Interviews is live at 9pm every Thursday on Sky News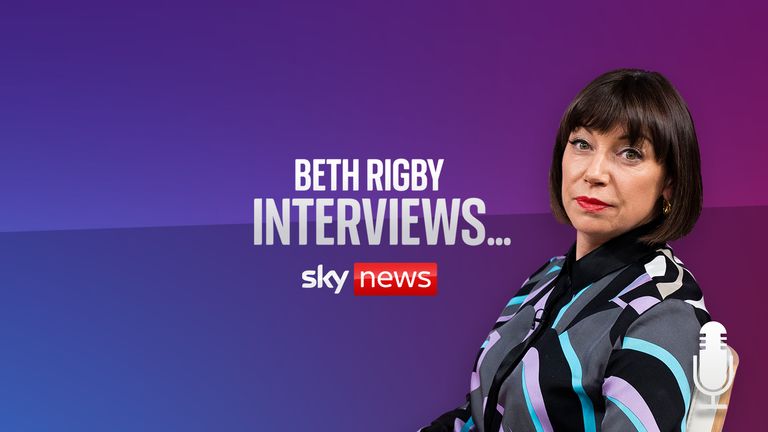 Click to subscribe to Beth Rigby Interviews… wherever you get your podcasts