Matt Hancock's handling of the COVID pandemic has come under fresh scrutiny following a leaked trove of more than 100,000 WhatsApp messages.
An investigation by The Daily Telegraph alleges the former health secretary rejected testing advice on care homes and expressed concern this could get in the way of meeting his targets.
The MP strongly denied the "distorted account" with a spokesman alleging the conversations, leaked by journalist Isabel Oakeshott after she worked on his Pandemic Diaries memoir, have been "spun to fit an anti-lockdown agenda".
Former chancellor George Osborne and Conservative MP Jacob Rees-Mogg are also the subject of some of the messages.
Politics live: Matt Hancock under increasing pressure
Here, Sky News looks at the key exchanges that reportedly took place:
Hancock says care home testing 'muddies' waters
The Telegraph's investigation claims chief medical officer Professor Sir Chris Whitty told the then health secretary in April 2020 there should be testing for "all going into care homes".
Mr Hancock described it as "obviously a good positive step".
But the messages suggest he ultimately rejected the guidance, telling an aide the move just "muddies the waters".
According to the investigation, he said: "Tell me if I'm wrong but I would rather leave it out and just commit to test and isolate ALL going into care from hospital.
"I do not think the community commitment adds anything and it muddies the waters."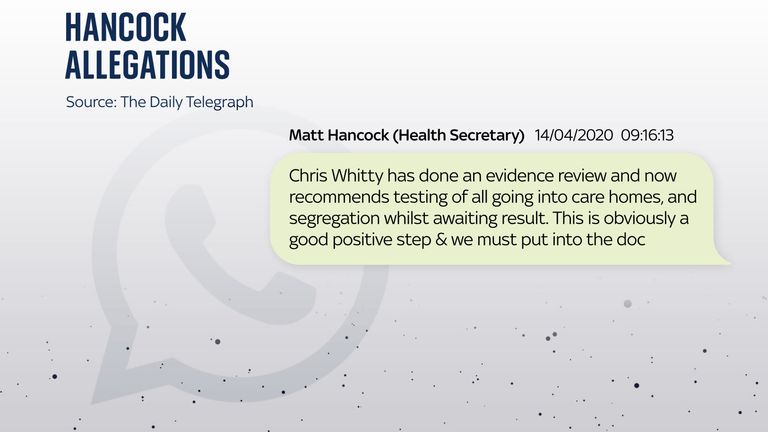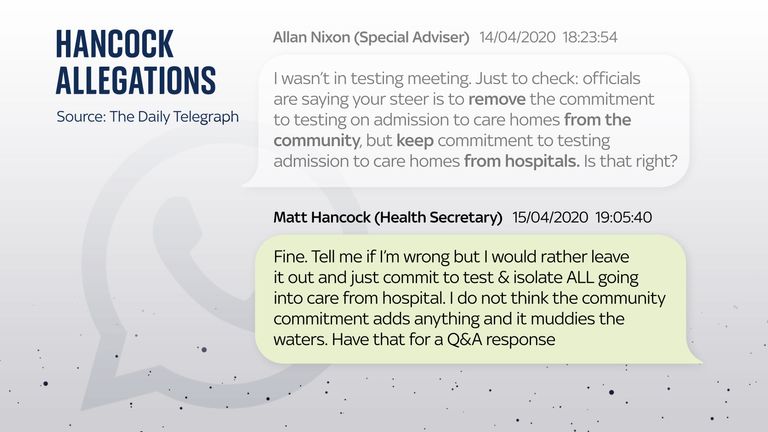 However, a source close to Mr Hancock said The Telegraph "intentionally excluded reference to a meeting with the testing team from the WhatsApp".
"This is critical," the source added, "because Matt was supportive of Chris Whitty's advice, held a meeting on its deliverability, told it wasn't deliverable, and insisted on testing all those who came from hospitals.
"The Telegraph have been informed that their headline is wrong, and Matt is considering all options available to him."
How were the WhatsApps leaked?
Meanwhile, a spokesperson for Mr Hancock said: "It is outrageous that this distorted account of the pandemic is being pushed with partial leaks, spun to fit an anti-lockdown agenda, which would have cost hundreds of thousands of lives if followed. What the messages do show is a lot of people working hard to save lives."
Care home testing could 'get in way' of the 100,000 daily test target
Mr Hancock also expressed concerns that expanding care home testing could "get in the way" of the 100,000 daily test target he wanted to hit, the investigation said.
On 2 April, the then cabinet minister put his reputation on the line with a pledge to significantly increase testing by the end of the month as the UK lagged behind Europe in capacity.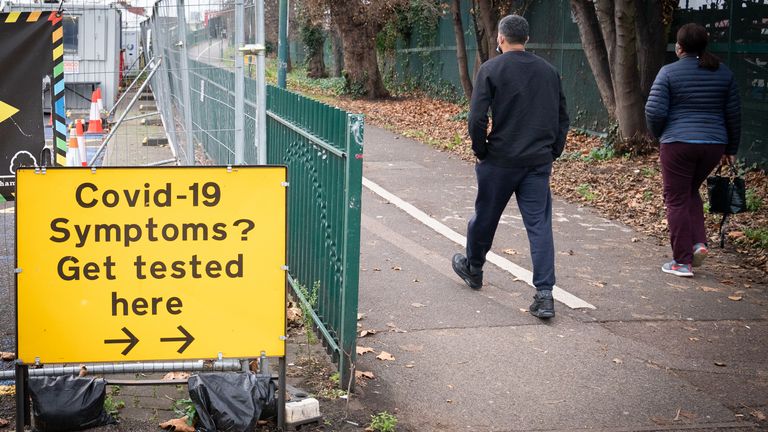 Those eligible for the tests initially included the general public and NHS staff, and when advised to widen access to include people in COVID-hit care homes later that month, Mr Hancock said this would be "OK" so long as it did not "get in the way of actually fulfilling the capacity in testing".
According to the leaked messages, a civil servant told Mr Hancock on 24 April: "Asymptomatic testing sub is reading. Top recommendation is that you agree to: Prioritise testing of asymptomatic staff and residents in care homes where an outbreak has been recorded within the past 14 days. We estimate this will result in 60,000 tests being carried out across 2,000 care homes in the next 10 days".
Mr Hancock replied: "This is ok so long as it does not get in the way of actually fulfilling the capacity in testing."
He did not say why this would get in the way of his target but at the time, the government had acknowledged the challenges of getting tests to care homes.
Mr Hancock later approved the extra testing in care homes which was announced on 28 April.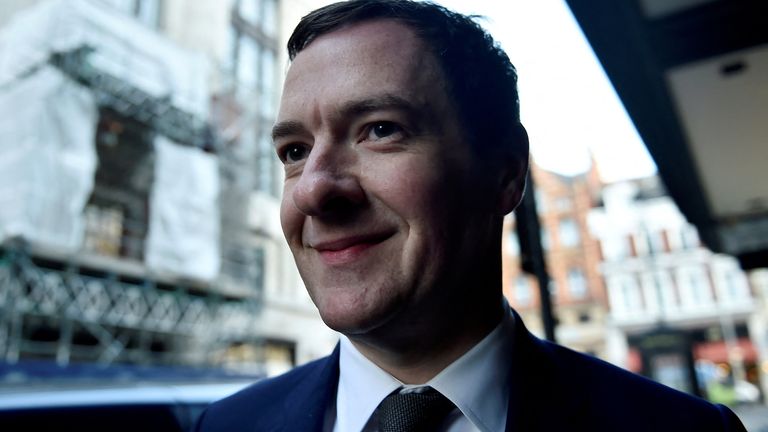 Hancock texts George Osborne for help
As he struggled to meet his target, leaked messages show Mr Hancock texted former Tory chancellor George Osborne to ask for help.
He said the thousands of spare testing slots were "obvs good news about spread of virus" but "hard for my target".
Mr Osborne, editor of the Evening Standard until July 2020, had reportedly responded: "Yes – of course – all you need to do tomorrow is give some exclusive words to the Standard and I'll tell the team to splash it."
Mr Hancock had later added: "I WANT TO HIT MY TARGET!"
Boris Johnson 'going crackers' over testing
Building a centralised test and trace system was one of the biggest challenges for the government during the pandemic.
The £37bn service is widely seen as having failed in its main objective to reduce the spread of the virus and prevent further lockdowns after its launch on 28 May 2020.
The "lockdown files" suggest then prime minister Boris Johnson was frustrated over its capacity after it got up and running.
On 4 June he appeared to message Mr Hancock saying: "It's all about testing. That's our Achilles' heel. We can't deliver a sensible border policy or adequate track and trace because we can't test enough. Did we go to the Germans for those kits that Angela Merkel was offering? What is wrong with us as a country that we can't fix this?"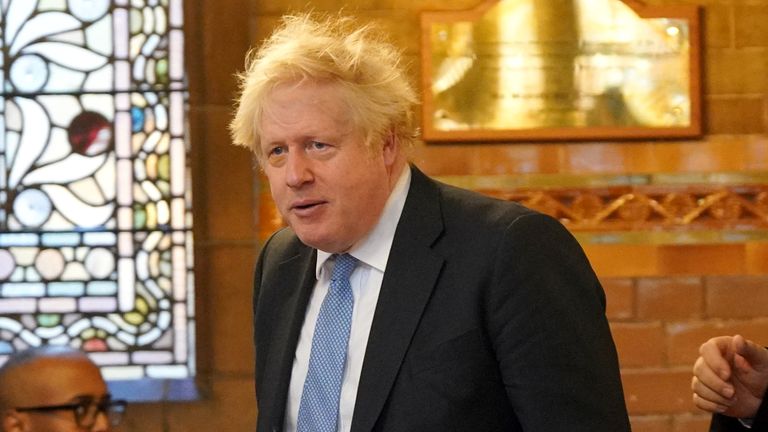 In another message, Mr Johnson adds: "We have had months and months.
"I am going quietly crackers about this."
Mr Hancock replied: "Don't go crackers. We have test capacity enough to do this. We now have the biggest testing capacity in Europe. The problem is the false negatives – so the medics are against releasing from self-isolation (whether for quarantine or T&T) with a negative test."
Analysis: How messages lay bare political handling of pandemic
Boris Johnson and senior advisers raised concerns about shielding
The files also appear to suggest Boris Johnson and the government's most senior advisers raised concerns about shielding – but the guidance was kept in place despite the reservations.
According to The Telegraph, Sir Patrick Vallance, the Chief Scientific Adviser, said in a WhatsApp in Aug 2020 that shielding had not been "easy or very effective".
Meanwhile Professor Chris Whitty, the chief medical adviser, said he would "think twice" about following the advice himself unless it was to protect the NHS – which was not the policy's aim.
Shielding was an intervention to protect extremely vulnerable people from coming into contact with coronavirus and required them to isolate for months on end.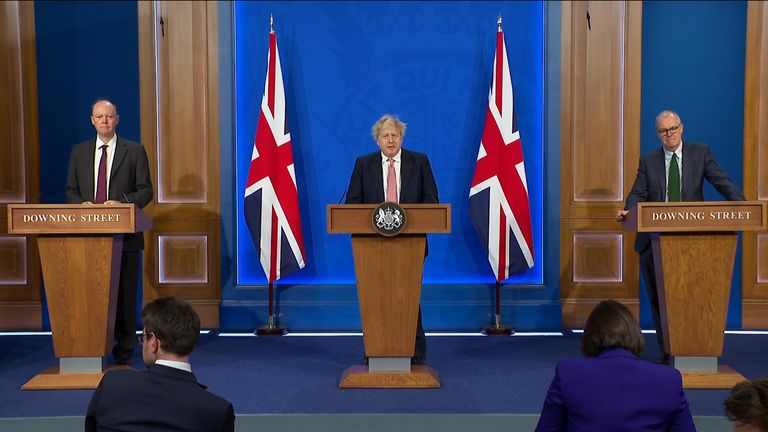 In the WhatsApp group with key officials, Mr Johnson proposed giving over-65s "a choice" between shielding or an "ever-diminishing risk" of living a more normal life. He compared the risk of people in this age group dying from COVID to that of "falling down stairs", adding: "And we don't stop older people from using stairs."
Despite the concerns, the government reintroduced shielding throughout each of the national lockdowns and only officially ended the policy in September 2021.
Test couriered to Jacob Rees-Mogg's child
The "lockdown files" investigation also claims that officials couriered Jacob Rees-Mogg a COVID test for one of his children while there was a shortage in September 2020.
The aide messaged Mr Hancock to say the lab had "lost" the original test for one of the then Commons leader's children, "so we've got a courier going to their family home tonight".
He added: "Jacob's spad [special adviser] is aware and has helped line it all up, but you might want to text Jacob."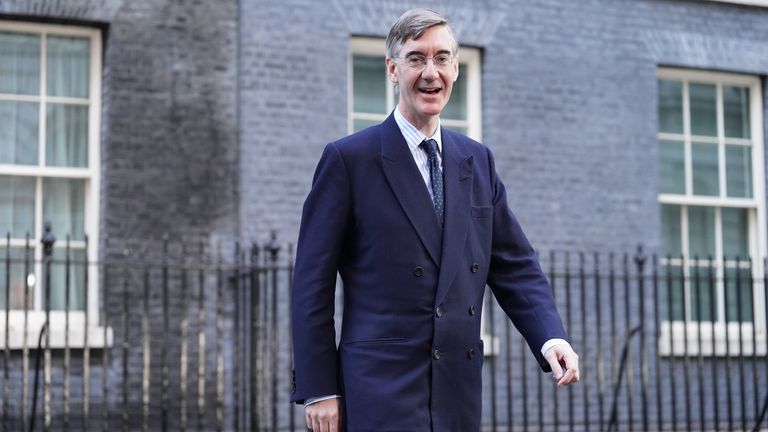 It is not clear if Mr Hancock sent a text flagging up the intervention or if the test was delivered.
Commenting on the claim, Liberal Democrat deputy leader Daisy Cooper said: "This is yet more evidence that it's one rule for Conservative ministers and another for everyone else.
"The COVID inquiry must look into reports Conservative ministers were able to get priority access to tests at a time of national shortage."
Hancock warned restrictions on care home visits 'inhumane'
The Telegraph's investigation also claims social care minister Helen Whately advised the health secretary not to stop "husbands seeing wives" in October 2020.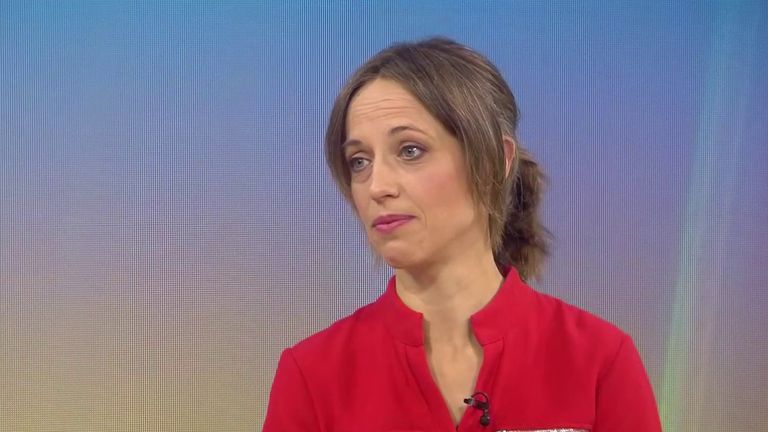 This was in relation to care home visits, which were to be restricted as the UK went into a tiered lockdown system, with tighter rules in areas with higher COVID rates.
Ms Whately said: "I'm hearing there's pressure to ban care home visiting in tier 2 as well as tier 3. Can you help? I really oppose that. Where care homes have COVID-secure visiting we should be allowing it. To prevent husbands seeing wives because they happen to live in care homes for months and months is inhumane."
Mr Hancock replied: "Hearing from whom? Tier 2 was agreed yesterday as far as I'm concerned."
The rules that came into place that month allowed some visits for those in tier one, but banned them unless under "exceptional circumstances" in other tiers.
In January 2021, when some restrictions still remained on care home visits despite the vaccine rollout, Ms Whately also reportedly said: "I am getting v positive updates from David P on care home vaccinations, with just a handful left to do. As I think I've flagged, we do need to be ready with policy on visiting, given risks of lives lost through old people just giving up as well as COVID… and expectation that vaccine = safe to visit."
Hancock replied: "Yes on visiting but only after a few weeks. Meanwhile we need to hit the end-of-month target!"
Sky News has contacted Ms Whately for comment.
Osborne: No one thinks testing is going well
Other revelations contained in the files appear to show a disagreement between Mr Hancock and Mr Osborne after the former chancellor gave a radio interview criticising testing.
Mr Hancock messaged his ex-colleague asking: "What was this for?"
Mr Osborne, who was still the editor of the London Evening Standard, replied: "Trying to spread the responsibility from you to Number 10 – I've said it before."
Mr Hancock retorted: "Ok but mass testing is going v well – I fear this looks like you asked for me to be overruled…"
Mr Osborne shot back: "No one thinks testing is going well. If I wanted a test today I can't get one, unless I fake symptoms – and XXXX [redacted] is still waiting test results from three weeks ago (XXXX went private in the end)."