Three emergency workers have been fired over their response to Tyre Nichols after he was beaten by police.
The Memphis Fire Department said it had fired two emergency medical technicians and an emergency vehicle driver after an investigation found they failed to provide adequate medical care.
Mr Nichols was left in critical condition after several officers punched, kicked and hit him with a baton in Memphis, Tennessee after he was pulled over on suspicion of reckless driving on 7 January.
The 29-year-old died three days later from his injuries.
The fire department said in a statement that Robert Long and JaMicheal Sandridge failed to conduct an "adequate patient assessment" of Mr Nichols.
It added that the pair, alongside Lieutenant Michelle Whitaker who drove the two paramedics to the scene and remained in her vehicle after arriving, were dismissed for violating department policy.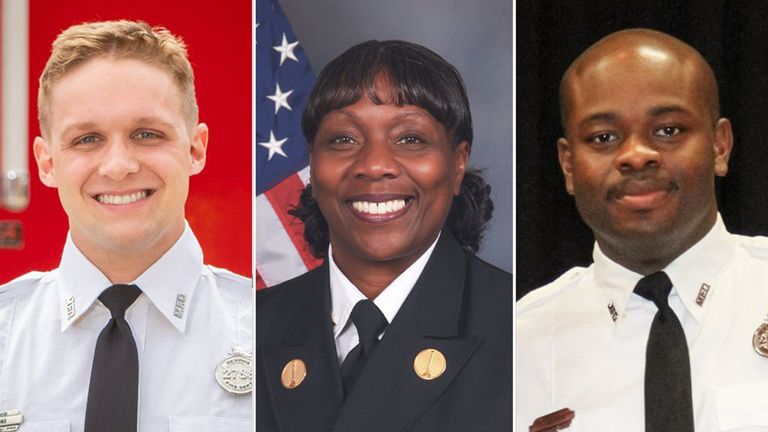 Five black police officers have been fired and charged with second-degree murder and other crimes over Mr Nichols' death.
The five officers chatted and milled about for several minutes as the father-of-one remained on the ground, but there were other authorities on the scene.
In bodycam footage released by Memphis Police, Mr Nichols was heard screaming "mom, mom" several times as he was beaten. Footage showed police officers using a stun gun, a baton and their fists as they pummelled Mr Nichols.
On body camera footage from the initial stop, white officer Preston Hemphill is heard saying that he had tasered Mr Nichols and declaring: "I hope they stomp his ass."
'I didn't do anything', pleads Tyre Nichols

Memphis Police revealed on Monday that officer Hemphill has been suspended with pay pending a hearing.
A seventh officer, who was not named, was "relieved of duty" without pay, the force added.
No criminal charges have been filed against Hemphill or the unnamed officer.
A police department spokesperson declined to comment on why the suspensions were not announced earlier.
Read more:
What is the Scorpion police unit?
How the violent arrest of Tyre Nichols unfolded
While police initially said Mr Nichols had been stopped for reckless driving, they later said a review of the incident could not "substantiate" the reckless driving claim.
Mr Nichols' death has sparked outrage in the US over police brutality and protests have taken place across a number of cities.
Click to subscribe to the Sky News Daily wherever you get your podcasts
The five officers charged with murder and officer Hemphill were part of the Scorpion unit, which targeted violent criminals in high-crime areas.
The police unit was permanently disbanded on Saturday following the killing of Mr Nichols.